Everything You Need To Know To Snorkel Hanauma Bay
Declared a marine park in 1967, Hanauma Bay is now one of Hawaii's most visited tourist destinations, with around 3,000 people flocking here every day to snorkel its protected waters. This beautiful bay was formed within a volcanic tuff and provides a refuge for around 400 different species of fish, as well as an abundance of green sea turtles.
Hanauma Bay has undergone many changes over the decades, including the addition of a marine education center in 2002 to assist in implementing the park's conservation measures. It's no longer just a case of turning up and jumping in the water. In this article, we'll explain the ins and outs of how to snorkel Hanauma Bay so you can make the most of your visit to this special part of Oahu.
Opening Times and Dates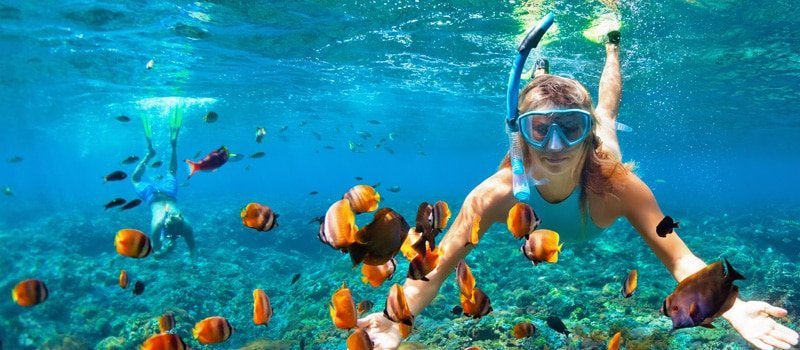 Hanauma Bay is open from 6 am until 6 pm each day, except for Tuesdays when it closes so that the marine life can enjoy a people-free day. It's also closed on Christmas Day and New Year's Day but opens on all other public holidays. While Hanauma Bay used to be open for night snorkeling, this is no longer the case, so you'll have to head elsewhere if you want to experience Oahu's nocturnal marine life.
Hanauma Bay Snorkeling Tips!
Stay Safe and Be Aware
If possible, arrive as early as possible to avoid the lines that are encountered later in the day. It will be easier to secure a parking spot, easier to find a shady spot on the beach beneath the palm trees, and you'll get to enjoy the park without the crowds. Once it gets busy, the sandy bottoms of the near-shore lagoons tend to get churned up, which can significantly reduce visibility.
How To Get To Hanauma Bay
There are several options for accessing Hanauma Bay, which is located on the southern side of Oahu, just 12 miles from Waikiki. If you have your own car, you can drive along the H1 Freeway until it becomes the Kalanianaole Highway, then keep an eye out for the turnoff to Hanauma Bay that is well signposted just after the city of Hawaii Kai. Parking spaces are limited (and there is a $1 fee for all vehicles), so try and arrive early if you want to grab a spot.
Alternatively, you can take the #22 bus from Waikiki to Hanauma Bay, with the journey costing $2.75 and taking around 45 minutes one way. The third option is to take one of three round-trip shuttle buses from Waikiki, which include onboard commentary as you drive along the spectacular coastline. They depart at 7:15 am, 8:45 am, and 10:15 am each day (except Tuesdays) and will return you to Waikiki 4 and a 1/2 hours later. The cost is $25 per person, including the rental of fins, mask, and snorkel. Many of the same companies that offer Pearl Harbor tours offer tours to Hanauma Bay.
Tickets, Rental Gear, and Lockers
Entrance to the marine park costs $7.50 per person and is free for children 12 years and under, as well as locals with a state ID and active local military personnel. There's also a tram service between the upper and lower levels that you can utilize if you don't want to walk, with it costing $1 for the descent and $1.25 if you're coming up. Hanauma Bay is also accessible for those with limited mobility and all of its access points are ramped.
If you don't have your own gear to snorkel Hanauma Bay, you can rent a standard set for $20 or a premium set (with a full-face mask) for $40. Prescription mask snorkel sets (for nearsighted guests) are also available for $15. If you want a locker to stash your valuables while you're out in the water, they cost $10 for a small and $12 for a large.
There's a snack stand on the upper level of Hanauma Bay where you can grab food and drinks before or after your snorkeling session or you're welcome to bring your own. Be aware that only small coolers are allowed and there's a strict no-alcohol policy within the park. If you want a souvenir from your time at Hanauma Bay, there's also a small gift shop on the upper level.
The Hanauma Bay Education Program
To ensure Hanauma Bay and its marine life is preserved for future generations, the University of Hawaiʻi Sea Grant College Program presents a nine-minute orientation video, which is mandatory for all snorkelers to watch before heading down to the water. It provides information on the value of Hawaii's marine resources and reef etiquette, covering things like not standing on the coral, not touching any of the marine life, and not feeding the fish.
Snorkeling Hanauma Bay
Once you've navigated through the upper level and made it down onto the beach, it's time to go snorkeling! The near-shore lagoons are relatively shallow, so even though you might be able to stand, it's important that you stay horizontal to avoid churning up the substrate or damaging the coral.
More experienced snorkelers may be able to access the backside of the reef where the water is much deeper. Check with the lifeguards on duty first to ensure the ocean conditions are suitable, then head towards the white buoys that mark the channel. Larger fish can often be seen here, and the number of snorkelers is usually far less. Just be careful when returning to the beach that you find a part of the reef that's not too shallow to swim across, otherwise, you may get marooned on sharp coral (and will get scolded by the lifeguards over their megaphones).
Introductory scuba dives are also possible in the shallow waters of Hanauma Bay with several local operators. If you're an experienced diver, we recommend you head to one of Oahu's more exhilarating dive sites, such as Kahuna Canyon or the Sea Tiger wreck.