When visiting Maui, a visit to Lahaina is a must-do activity. Lahaina Town holds a special place in Hawaiian history and is the perfect place to spend a day of your vacation. Lahaina has gained fame not only due to its beautiful beaches, great accommodations, and restaurants but also for its vibrant and culturally rich past. Lahaina was the capital of the Royal Kingdom of Hawaii for 25 years, from 1820 to 1845. Today, its become a hot tourist destination with its many shops, galleries, and restaurants. If you're headed to Maui from Oahu, you can fly into Kapalua to have quicker access to the sites and activities located in Lahaina.
Lele: Lahaina's Origins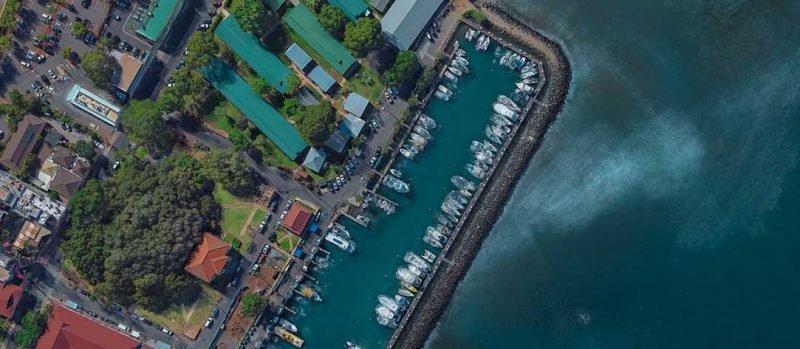 Lahaina was known as 'Lele' in the past. Operating as a whaling village, about 1500 sailors remained on the land as ships moved in and out of the docks, making it a popular destination for people of all professions and works. If you've ever read Moby Dick, you might understand the town better by Herman Melville's wonderful elaborations of Polynesian life by the sea. However, 'Lele' was soon changed to 'Lahaina', meaning Cruel Sun. This was due to the frequent dry spells raging in town, without much rain too. This may come as a surprise because Lahaina is surrounded by water, but the harsh weather has also made it stand out in the past. Maui consists of two different islands that converged, West Maui and East Maui, that is primarily Haleakala.
Today, as tourists make their way to Lahaina, they do so in hopes of a good time and tons of recreational activities. From water sports to the enticing luau feasts, refreshing days by the beach to tantalizing cuisines in local restaurants – Lahaina has much to offer. An especially famous part of Lahaina, attracting tourists from all over the globe, is the one and only: Front Street.
Front Street in Lahaina
Ranked amongst the "Top Ten Greatest Streets", courtesy of American Planning Association, Front Street has a little bit of everything. The bars and whaler haunts of the past have been replaced, rather aesthetically, by a variety of stores and kiosks. As you go for a stroll along the street, your inner shopaholic will be bouncing around as you browse amongst the many options available for things you desire. From heartwarming souvenirs to fashionable clothing, gorgeous portraits to delicious street food, you will find anything and everything on Front Street. However, what differentiates it from other shopping arenas is its closeness to nature. As you walk around, the ocean stays by your side.
As you grab a burrito from a kiosk lining the street, you can feel the oceanic air caress your face, and suddenly shopping doesn't seem like merely shopping anymore. It becomes a way to let go of all things troubling your mind, and simply shop your heart out – for yourself and your loved ones – whilst the ocean continues to give you moral support, exhibiting a splish or splash each time you make a wonderful purchase.
Lahaina is also home to some of the best real estate property on Maui including the gorgeous Puamana community and the Launiopoko neighborhoods. See what's happening in Maui Real Estate.
Wondering what to do, and where to buy from amongst the many choices available on Front Street, Lahaina? Fret not, for we will give you the highlights of the Street, so that even if you are short on time, you can hit the important spots, ensuring you did not miss out on anything in your Maui adventure.
Art Galleries on Front Street
If you are fond of art or photography, the galleries lining Front Street will take your breath away. Park your car at the beginning of the street and begin your stroll to explore each one of these wonders. While some display elegant pieces of art, others have some of the most exquisite framed portraits of gorgeous beaches.
Two very famous galleries are Kush Gallery and Peter Lik Gallery. If you are in search of beautiful oils on canvas, gorgeous hues of watercolors or the profound world of black and white explored via sketches and etchings, Kush Gallery is the place to be at. The art pieces on display are available in a huge variety, from those of inanimate objects to animals to exotic scenery. Creative sculptures and jewelry are also exhibited here. On the other hand, the Peter Lik Gallery is poles apart from any other gallery you may have been to. Exploring the theme of fine art, the gallery encompasses breathtaking landscape photographs, bound to mesmerize its viewers. Crowned the Best Gallery in Hawaii in the 2016 and 2017 American Art Awards, this gallery is certainly a must-visit whilst touring Front Street.
Wo Hing Temple Museum
If you are intrigued by the history of Maui, a visit to the Wo Hing Temple Museum located on 858 Front Street, Lahaina is a great way to know more. Depicting the earlier times when Lahaina was a whaling village, the Museum shows the journey of the Chinese who came to settle here in search of good trading opportunities, or on whaling ships. These Chinese formed a society called the Wo Hing Society to care for their ex-pat community, in times of need. Thus today, the Museum depicts the life of the Chinese and afterward in the islands. With a cookhouse reflective of those times, there is also a small theater to screen movies of life in the islands made by Thomas Edison. For a meager admission fee of $7, this ticket is definitely a steal as compared to the enlightenment is offered for visitors.
Banyan Tree Park
If you are tired from your stroll along Front Street, you will find relaxation under the massive Banyan tree in the Banyan Tree Park, located at the corner of the Street. Called 'Paniana' in local terms, this Banyan Tree was merely a sapling when it was planted in 1873 by Lahaina's mayor at the time: William Owen Smith. Today, the tree has grown to become over 60 feet tall, covering a surrounding area of about 200 feet.
With 16 trunks and measuring about a quarter of a mile circumference-wise, this Banyan tree is the largest – not only in Hawaii but also in the entire United States. If you visit on the weekends, you might find a small market hosted under the tree where you could shop for arts and crafts, whilst the locals play some live music nearby.
Wish for a relaxing time? A visit to the famous Banyan Tree of Lahaina is a must on the list of Maui Things to Do.
Feast at Lele
A visit to Maui remains incomplete without experiencing the local luaus, and what better luau than that located on 505 Front Street: The Feast at Lele. A very famous luau on Maui, the Feast at Lele continues to attract many for its hospitable staff, delectable multi-course feast and exciting performance.
As soon as you enter, you are greeted by a complimentary drink and flower leis. Next, you must take your seat for the festivities are about to begin. Your Prix fare menu will begin and you'll discover the flavors of Polynesia, one culture at a time. Tahiti, Samoa, New Zealand, and Hawaii are given individual treatment during the performance as well as the paired course. As a delicious fragrance fills the area, calm your hearts for the Kalua Pig is not the only thing on the menu. Since the luau actually refers to a lavish feast, there is a variety of delicacies to choose from, with the Poisson Cru from Tahiti being an all-time favorite.
As the sun sets, the luau takes a historical turn. The locals narrate stories of the past with specific reference to Polynesian life and legends. Love a good storytime? Head over to the Feast at Lele luau for good food paired with vibrant stories.
Lahaina, Maui Restaurants
After shopping the stomach screams for a good meal, and here come in the famous Maui restaurants and cuisines of Front Street. Craving a good, filling pizza? Visit Pi Artisan Pizzeria. If you wish to try something different, the Bubba Gump Shrimp Co. is another good option. On the other hand, if you're in search of snacks to munch on as you explore the area – try the local delicacy of shaved ice from the famous Ululani's Shave Ice. Checkout Mick Fleetwood's restaurant, known as Fleetwoods, for a rockstar's take on Maui cuisine. If you're in search of a killer breakfast place we highly recommend Down the Hatch to hit the spot.
Lahaina Harbor
If you have some more time, it is best to pay a visit to Lahaina Harbor. Located behind the Banyan Tree and just off Front Street, the harbor is a must-go for water sports enthusiasts. Aren't interested in shopping and want some other activities to do? The options are unlimited here – sailing, snorkeling, scuba diving, whale watching, Maui dinner cruises, you name it. Rent a catamaran and go sailing the water, or jump right through to get an up-close-and-personal feel of nature, the harbor certainly guarantees to refresh you. Here is a list of boats and activities that depart from Lahaina Harbor.
Excited by all that Lahaina has to offer? Plan your trip now, and don't forget to visit Front Street!