If you are planning to visit Pearl Harbor, then make sure you do your booking with PearlHarborOahu.com because our Flash Sale is going to end soon! It is your last chance to get up to 20% Off Pearl Harbor tours by simply using the code Flash! Your trip to Hawaii will not be complete if you do not visit the Pearl Harbor. It is one the most iconic and important sites in the U.S. Prepare yourself for a moving journey which will be teeming with powerful and emotional moments. You will get the chance to visit all the Pearl Harbor historic sites such as memorials, museums, and more. With the help of our skilled guide, you can listen to the hair-raising story from the history. As described by President Franklin Roosevelt who said that, "December 7, 1941 – a date that will live in infamy – the United States was suddenly and deliberately attacked by naval and air forces of the Empire of Japan."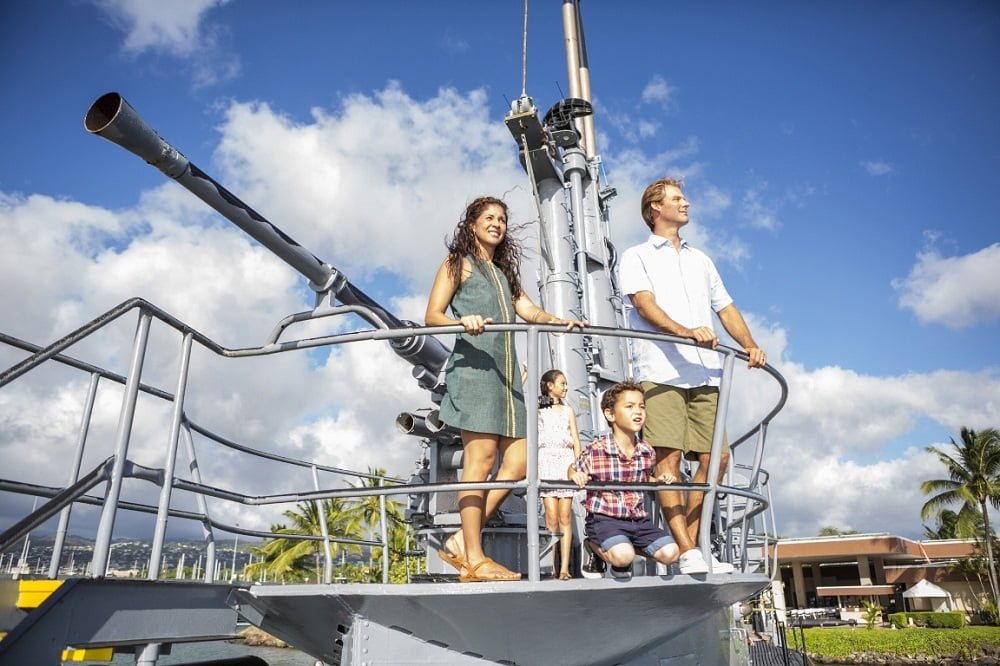 USS Arizona Memorial is among the focal points at Pearl Harbor. It was the most heavily damaged of all the American vessels. You can pay your respects to at the moving and legendary memorial structure dedicated to the martyrs. Close to it is the USS Bowfin Submarine Museum and Park where you can climb aboard the Bowfin and experience the feelings of those valiant soldiers who had been there in the WWII. The Battleship Missouri Memorial which is often called the "Mighty Mo," is extraordinary historical bookend to the US campaign in the Pacific because it was where the war had ceased. You can stroll on board, see the exhibitions, peep into the officer's quarters and even take a self-guided audio tour or the assistance of the guides. There are other important landmarks and places where you must go that includes the Visitor Center, USS Oklahoma Memorial and the Pearl Harbor Aviation Museum Pearl Harbor.
The Pearl Harbor experience includes:
Observed as a National Historic Landmark on 29th January 1964 Pearl Harbor has the following places where you can go;
Battleships of WWII
Dole Plantation
Polynesian Cultural Center Tour
Historic Honolulu City Tour
USS Arizona Memorial
Aloha Stadium Swap Meet
Pearl Harbor Aviation Museum
Oahu Circle Island Tour
USS Oklahoma Memorial
USS Bowfin Submarine Museum and Park
Pearl Harbor Museums & Memorials
World War II Historic Narration
Authentic Film Footage of Attacks
Unique Displays of War Memorabilia
Historic Downtown Honolulu City Tour
Hawaii State Capitol Building
Iolani Palace and Kawaiahao Church
King Kamehameha the Great Statue
Historic Ali'iolani Hale
Punchbowl National Cemetery
Tours by Island
Tours from Oahu
Tours from Maui
Tours from Big Island
Tours from Kauai
How To See Everything:
Purchasing a Harbor Pass
It is possible to purchase a pass that will enable you to visit some of the attractions at the Harbor such as the USS Missouri ship, USS Arizona, Bowfin Submarine and Pacific Museum. This pass can be used for 30 days and includes shuttle transport to and from Pearl Harbor and Waikiki.
Place to Stay while on Visit
The most recommended place to stay during the tour of Pearl Harbor is Honolulu. You can also check into hotels at Waikiki Beach or rent the AirBnb rentals.
However, procuring tickets and passes can take a large amount of your time and effort. There is a long line and a large number of people and the availability of the tickets is only limited. But we can help you secure your tickets in advance so that you don't have to waste your time. You can utilize this time in seeing the museums, memorials, and exhibits of the Pearl Harbor Visitor's Center!
Pearl Harbor remains an important part of the history and we must never forget the sacrifice and bravery of the soldiers. A trip to Pearl Harbor will enable you to show your respect and honor the brave martyrs.