This tour starts after we pick you up at your Waikiki hotel and take you for a day of drama, history, and picturesque beauty in Oahu. It is also available departing from Maui, Hawaii Big Island, and Kauai. It includes all admission, round trip ground transportation as well as airfare.
First stop of the tour is Pearl Harbor where you'll experience how terrible the events that propelled the U.S. into World War II would have been. You will know about the surprise attack perpetrated by the Japanese forces on Pearl Harbor on December 7, 1941, which resulted in the sinking of the USS Arizona. The emotional documentary film will be featured showing the archival footage of how much loss of life and devastation occurred in the attack.
Take the Navy boat out to the Memorial. It is a renowned white structure suspended over the remains of the sunken battleship. You will notice the aura of quiet contemplation and honor as you step inside the Memorial. Witness the names of the 1,177 seamen who lost their lives on that fateful day are etched in the Shrine Room. Take a look at the Harbor and check the oil drops also known as "The Black Tears of the Arizona". It is surprising that they continue to escape the sunken hull, even today.
Explore The Road to War and Attack galleries at the museum at Pearl Harbor Visitor Center. It features Historic Sites including dramatic images, artifacts, and memorabilia. You can also go through the huge collection of historic WWII memorabilia, books, and souvenirs at the bookstore.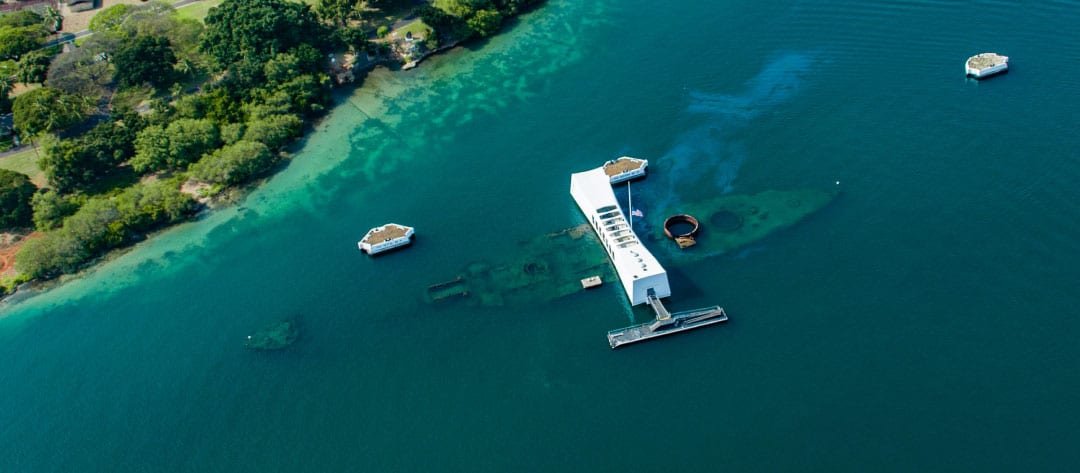 The tour further takes you to Oahu's most beautiful destinations and secret locations as we go round the island. Then you can head to the legendary North Shore which has most epic surfing beaches of the planet. World champions compete every November and December at Waimea Bay and Sunset Beach. You can witness galleries, shops, and cafes as the tour passes through pleasant Haleiwa Town.
Another stop is at famous Dole Plantation where you will know all about Hawaii's legendary pineapple crop. The tour continues as you visit the valleys and cliffs of the emerald green Koolau Mountains and the rocky shoreline of South Oahu. The phenomenal panoramic sight from Nuuanu Pali Lookout, Makapuu Point, and Hanauma Bay will just astonish you.
Our friendly and expert tour guide will narrate the mesmerizing history, heritage, and culture of Oahu and Hawaii throughout the tour. You will get to know insider secrets which, otherwise, only a local would know. Our well-maintained minibus will make your travel comfortable and luxurious. We take small group tours so that you enjoy the intimate personal experience of the tour. Book your Pearl Harbor + Oahu Circle Island Tour Departing Waikiki, Oahu Hotels to experience the best of Oahu.