Your trip to Hawaii is incomplete without visiting the Pearl Harbor. However, it is highly advisable to know about certain things before going to the Pearl Harbor and other historic sites in the vicinity. Besides some basic questions like where is Pearl Harbor located, what island is Pearl Harbor on, what is the Pearl Harbor dress code etc, there are some other crucial tour tips you must know & do before planning your Pearl Harbor tour:
1. Book a Tour in Advance
It is important and advisable for you to book a tour to Pearl Harbor in advance even if you like to travel on your own. As the area is extensive, there are chances that you can miss out on something. Locating the memorials and navigation can also be a problem for you if you are alone. But if you have the company of skilled tour guides, then you have nothing to worry about. The guides will take you to see all the places efficiently, tell you about their respective history, facts and other significant information about them. With the help of a Pearl Harbor tour guide, you can enjoy a lot more and explore the history of World War II. Book your Pearl Harbor tours now!
2. Research & Study About Pearl Harbor in Advance
As Pearl Harbor is a place packed with history, it is advisable for you to read about it in advance before the visit. There are a lot of interesting facts & information that you may perhaps be unaware of. But by reading about them, you can see the sites with much more awareness. You can skim through some books or online articles in order to know the background of the place.
3. Pack Lightly
As the harbor is still a military base, some parts of it do not allow visitors to carry bags. While there are storage lockers available, it's best to pack lightly. Your camera and wallet are all you really need for the park, so save yourself a little trouble and leave the non-essentials in your hotel room.
4. Dress Appropriately
It is important to keep in mind that the USS Arizona Memorial in Pearl Harbor is an underwater grave. Thus, you should remember to dress appropriately. No bathing suits are allowed.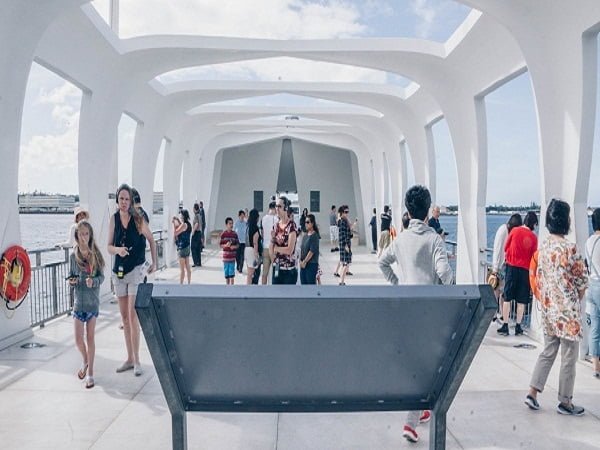 5. Wear Comfortable Footwear
You will need to do a lot of walking in order to visit the sites, monuments, museums and battleships in Pearl Harbor. Thus, it is essential that you must wear comfortable footwear.
6. No Bags or Purses Allowed
As Pearl Harbor is a military base and is home to the US Navy's Pacific Fleet, the security arrangements are very strict. You will also have to pass through a metal detector that is why any kind of bag, backpack, or a purse is not allowed. However, bag storage is provided there for $3 per bag maximum of 50 pounds, regardless of size. You are allowed to bring Wallet, Camera, Phone and Clear water bottle only.
7. Wear Sunscreen
A considerable part of your tour will be spent outdoors. As Hawaii is warm and the tropical sun can be harsh, don't forget to use sunscreen before going out.
Make sure to remember these tips in mind before your visit to Pearl Harbor. Enjoy the tour by exploring all the memorials and pay respect to the valiant soldiers.