This tour will take you to Hawaii's royal past through Downtown Honolulu and lets you explore WWII history at Pearl Harbor. You can visit all the historic sites of Pearl Harbor including USS Arizona Memorial, Battleship Missouri, U.S. Pacific Fleet, Punchbowl National Cemetery, Historic Downtown Honolulu, Iolani Palace, Kawaiahao Church, Aliiolani Hale – As Seen on Hawaii Five-O and King Kamehameha the Great Statue. You get the opportunity to view "The Black Tears" of Arizona as well as World War II museums and exhibits. Book your Pearl Harbor tours now!
Pearl Harbor and Historic Honolulu City tour includes admission as well as round trip ground transportation and airfare. You save a lot on your bookings when you book your Pearl Harbor Oahu tour with us. Our expert and friendly guide will help you to experience two different yet equally significant periods in the history of Hawaii. You will see Oahu's past coming to life.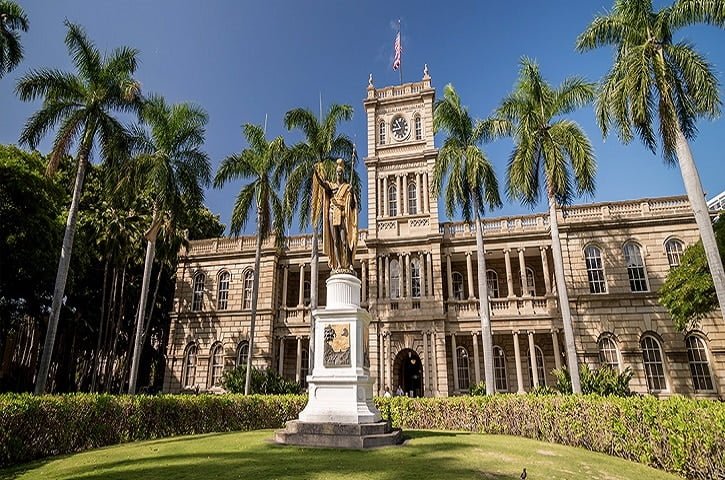 The tour begins at Pearl Harbor where you will feel as if you are watching the intense and tragic events of December 7, 1941. This is the day when the Japanese Forces did a surprise attack on Pearl Harbor. The USS Arizona was hit directly and took just minutes to sink. 1,177 seamen went down with their ship. You can watch the 23-minute documentary portraying the original archival footage of that tragic morning. Watching the footage of such historic events unfold and crossing the Harbor in a Navy vessel en-route to the USS Arizona Memorial which lies over the sunken battleship will make you think about the soldiers who lost their lives in the attack.
Feel the quiet and reverential environment by stepping aboard the iconic white Memorial. You will find yourself standing over the Arizona hull; it is the place where those brave seamen are resting. Their names and ranks can be seen inscribed in marble in the Shrine Room. As you look into the water, you will see the oil drops known as "The Black Tears of the Arizona". Even after nearly eight decades, they still rise to the surface from the battleship hull.
The museum at Pearl Harbor Visitor Center contains the Road to War and Attack galleries including photos, memorabilia, and artifacts. There is also a wonderful bookstore that has WWII memorabilia, books, and souvenirs.
After Pearl Harbor, our tour guide will take you to the Historic Downtown Honolulu. The famous buildings will remind you of Hawaii's time as a royal kingdom. Our knowledgeable tour guide will inform you about the famous architectural masterpieces including Iolani Palace, Kawaiahao Church, and the statue of King Kamehameha.
Our unique Hawaii tour packages offer you the chance to experience Oahu's marvelous history. Book your tours now!